From seaweed to fuel
from Shaastra :: vol 01 issue 03 :: May - Jun 2022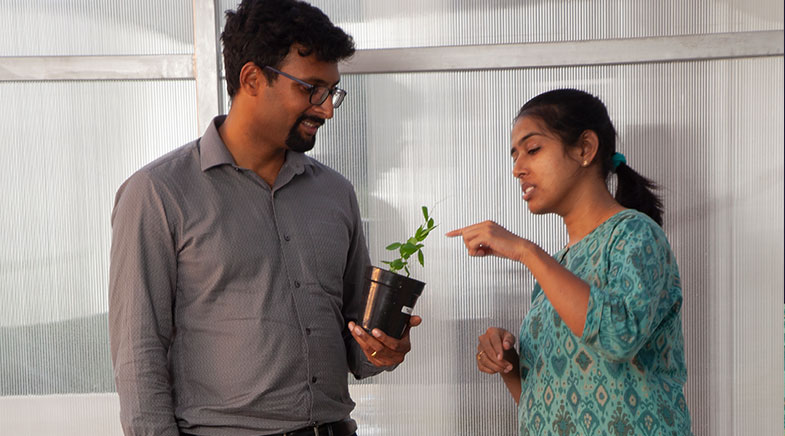 A start-up is looking to produce biofuel from seaweed being farmed with a singular machine.
In an expanse of blue, seaweed grows in tube-like nets anchored to a boat. One day in the near future, entrepreneur Nelson Vadassery believes, this very seaweed will be turned into biofuel.
Traditional seaweed farming is labour intensive and demands hours of back-breaking work in the sun. But Bengaluru-based start-up Sea6 Energy, of which Vadassery is a co-founder, hopes to change that, while developing innovative uses of the algae.
The seaweed grown in Sea6 Energy's floating farms off the coast of Bali and Banyuwangi, in East Java Province of Indonesia, is a type of red algae. Highly branched, it snaps like fresh cucumber or carrot. The seaweed has been cultivated in those parts for long. But unlike the local seaweed farms, Sea6 employs a specially designed piece of machinery - called the SeaCombine - that makes the cultivation process easy and scalable.
Seaweed is conventionally farmed with small fragments of algae tied to a long rope, quite like the way jasmine flowers are threaded into garlands. The rope is placed in sea waters, allowing the seaweed to grow. When ready, it is harvested manually by farmers.
With the SeaCombine machinery, which looks like a catamaran, many aspects of the cultivation process are mechanised. For example, it takes care of seeding by placing the seed fragments in tubular nets, which are released into the water. The nets can be released in deeper waters, too, thereby expanding the area accessible for seaweed farming. The SeaCombine also mechanises the harvesting process.
Seaweed has many industrial applications: it is used as a gelling agent or a thickener. Carrageenan, derived from algae, is used as a stabiliser in the food industry and goes by the name INS407 on food labels.
But companies such as Sea6 are looking at expanding the range of products that can be derived from seaweed. They've used seaweed to make products such as plant growth stimulators, plant immunity boosters, feed additives for poultry and bio-polymers that can work as bio-plastics. Some of these products, including those intended for plants and poultry, are already being marketed.
Sea6 eventually wants to use seaweed to make biofuel that can replace crude oil. It was with this in mind that the company was set up in 2010. But when the team realised that figuring out a scalable and cost-effective way to produce a crude oil replacement from seaweed would take time, it started with other products, while carrying on with its work on a crude oil replacement.
With mechanisation in seaweed farming, Sea6 feels it is close to its goal of producing crude oil alternatives from seaweed. Mechanisation has helped scale up production substantially. This is important, particularly for the production of biofuels, because it requires a huge amount of biomass.
"India's current crude oil import is roughly 200 million tonnes. To produce as much biofuel from biomass, we need 4-5 times biomass in weight," says Sea6 co-founder Shrikumar Suryanarayan. "We cannot generate so much biomass from land-based agriculture; sea-based biomass is the way to go."
The company reckons that an area of 120,000-285,000 sq km of open ocean is needed to cultivate the seaweed required for 200 million tonnes of crude oil.
BIOMASS TO BIOFUEL
At Sea6 Energy, seaweed is currently transformed into bio-crude - a replacement for crude oil - via a process called hydrothermal liquefaction. Apart from bio-crude, it also produces a type of clear liquid and a high-carbon solid material called biochar. Hydrothermal liquefaction somewhat mimics fossil fuel production in nature. But there is one major difference: hydrothermal liquefactions take just about 30 minute or so. The transformation happens at 350°C and a pressure of up to 200 bars.
"Hydrothermal liquefaction allows us to accelerate the Mother Earth process," Vadassery says.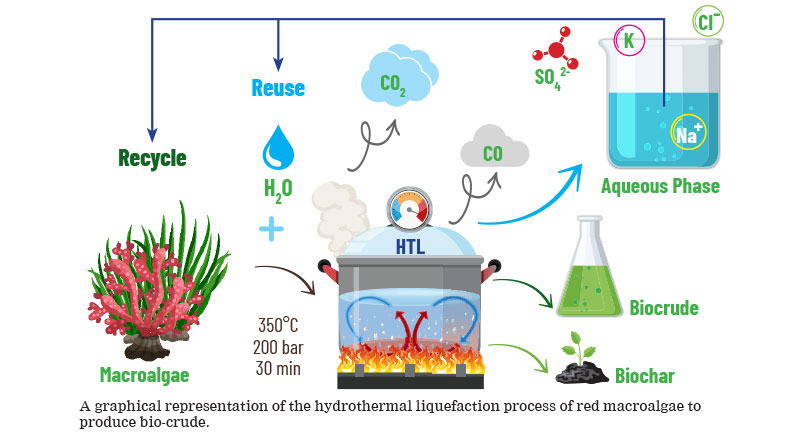 A 2021 study published in Bioresouce Technology by the founders of Sea6 Energy and others describes hydrothermal liquefaction as a "promising" technique that can convert moisture-rich biomass into biofuel. At a high temperature and pressure conditions used in hydrothermal liquefaction, "the properties of water are altered greatly, and it behaves as an excellent medium for the decomposition of organic matter".
In addition, the start-up founders write that they were able to boost the yield of bio-crude even further by using alkaline catalysts such as sodium carbonate (Na2CO3) and potassium hydroxide (KOH). Bio-crude produced this way looks like regular crude: a dark, viscous, tar-like liquid. Approximately 4-5kg of biomass would be needed to produce one litre of bio-crude.
Before hydrothermal liquefaction, the Sea6 team had tried to produce bio-crude with fermentation. But the two big problems with fermentation were that the process was a long one, and a huge amount of waste was generated that had to be taken care of. Currently, the Sea6 team is also experimenting with hydrothermal gasification to see how effective it will be in converting biomass into bio-crude.
GLOBAL TREND
Globally, there is a growing interest in using seaweed as a source for biofuels and other compounds. Companies are employing different strategies and tools to make seaweed farming easy and scalable.
Belgium-based AtSeaNova, for instance, has developed a range of mechanised solutions and a unique 2D substrate for growing seaweed. Norway-based Seaweed Solutions has developed a seaweed carrier that can help it grow seaweed at scale. Marine BioEnergy in the U.S. is targeting a specific problem in seaweed cultivation: making it possible to grow seaweed even in nutrient-poor areas of the ocean. To do so, it has designed a kelp elevator that can keep the seaweed in the surface layers of the ocean during the day to absorb sunlight, and to deeper, more nutrient-rich areas of the sea at night to absorb nutrients.
"This depth-cycling approach provides near-optimal growth conditions for the kelp, year round," says Brian Wilcox, co-founder of Marine BioEnergy. "Our depth-cycling approach is patented in nine of the largest global energy markets, including India."
The idea of depth-cycling is a bit like upwelling. In many coastal areas, due to storms and other seasonal reasons, deep water rises to the surface of the ocean and makes it plentiful in nutrients, promoting the growth of phytoplankton and fishes. Most natural habitats for seaweed are in shallow coastal areas, where they have access to both sunlight and nutrients. With the kelp elevator, both requirements of the seaweed - sunlight and nutrients - are met.
So far, Marine BioEnergy has tested the kelp elevator with one species of seaweed, called Macrocystis (Giant Kelp), but it hopes that depth-cycling will work with any marine photosynthetic organism.
GROWING SEAWEED IN INDIA
Interest in seaweed cultivation is growing in India. The government hopes to increase seaweed production from the current 2,500 tonnes to 11.5 lakh tonnes a year in five years. In September 2021, a new seaweed farming project was launched in Lakshadweep, with guidance from ICAR-Central Marine Fisheries Research Institute. Under this project, farmers are growing indigenous red algae such as Gracilaria edulis and Acanthophora spicifera.
The seaweed that Sea6 uses to produce bio-crude is called Kappaphycus. The alga is not native to India. The knowhow to grow Kappaphycus in the sea was first brought to India by the Central Salt and Marine Chemicals Research Institute (CSMCRI) in the early 1990s. It is grown in small farms off the coast of Tamil Nadu.
Some industry players reckon that seaweed could play an important role in making the world carbon-neutral well before 2050.
Some studies, however, have raised concerns about Kappaphycus being an invasive species for the Indian coasts and detrimental to native biodiversity. A 2021 study in the Journal of Coastal Conservation by the CSMCRI-Marine Algal Research Station, assessing the seaweed diversity in the Gulf of Mannar region, found that Kappaphycus did not affect the growth of native seaweeds.
But scientific opinion appears to be divided on Kappaphycus's invasiveness in Indian coastal waters. Sea6 Energy went for Kappaphycus because there was a market for it. However, it has begun exploring alternatives such as Gracilaria that are native to India.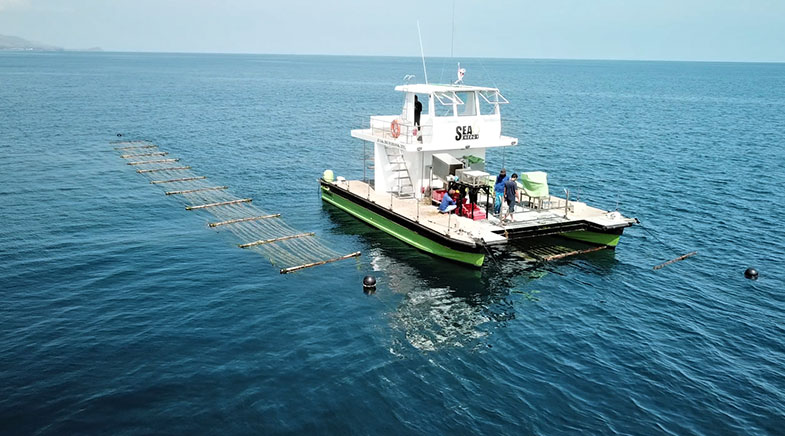 "Growing seaweed on a large scale can help us become energy-independent in a sustainable way," says Suryanarayan, who hopes to bring Sea6's bio-crude to the market in five years.
Seaweed will play an important role in making the world carbon-neutral, says Wilcox. Cultivation of 0.5% of the ocean area would provide enough feedstock to replace all long-haul transportation fuels. Cultivation of 5% would provide enough feedstock to replace all fossil fuels, he says.
Have a
story idea?
Tell us.
Do you have a recent research paper or an idea for a science/technology-themed article that you'd like to tell us about?
GET IN TOUCH