Saving lives, energy and time
from Shaastra :: vol 02 issue 01 :: Jan - Feb 2023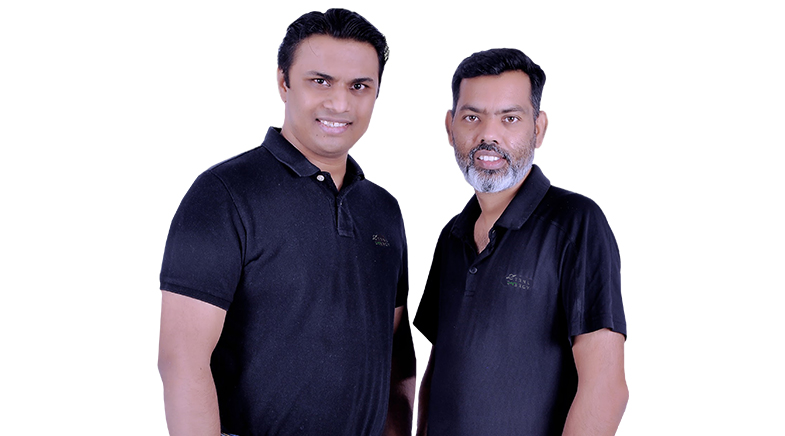 Start-ups are working on EV batteries, lightweight material components and organoids.
e-TRNL ENERGY
Founders: Apoorv Shaligram and Uttam Kumar Sen
Year: 2021
Big idea: To develop technology that eliminates battery cell heating, enables faster charging and is not expensive
Over-heating in Electric Vehicle (EV) batteries is an issue of concern. With a collective experience of over 25 years in the EV space, particularly in battery cell technology, Apoorv Shaligram and Uttam Kumar Sen put their heads together to find a solution to the problem.
Shaligram, who graduated from the Indian Institute of Technology (IIT) Roorkee in Metallurgy and Material Science and did his Master's at the Michigan State University, and Sen, who completed his PhD from IIT Bombay in Energy Science and Engineering, founded e-TRNL Energy (pronounced 'eternal energy') in 2021.There were numerous challenges to overcome, especially regarding battery cell technology. The sector was import-dependent, and the imported cells were not made for Indian conditions.
"In fact, they were not made for electric vehicles as an application," Shaligram, 38, says.
Even globally, the technology had been derived from portable electronics – batteries used to power mobile phones and laptops. The same cells in much larger numbers were put together to build a battery pack for EVs, he points out.
The two probed the many challenges that emerged: how fast the cells could be charged, what kind of power could be delivered, and about safety and price. Shaligram adds that the need was for a solution that was designed in India and for Indian conditions, and could be manufactured at a large scale. The company is in the process of setting up an R&D facility in Bengaluru, where it will complete technology development and then move to product development.
The company tackled the problem of over-heating by keeping the batteries cool, minimising the heat generation — enabled through a design change. It did so by reorienting the flow of current. "If you take the shortest possible route, you will have the least possible heating. We changed the geometry of the cell in such a way that the current path was the shortest from the negative to the positive terminal," he says.
The other issue the company dealt with was that of fire safety. "The chain of events cascading into a fire follows a particular order. If you break that chain, it will not result in a fire," Shaligram says. The duo added certain design elements to the cell, which helped break the chain.
The start-up has adopted a 3D architecture for the cell – which it calls 3DEA technology – aimed at heat reduction. In conventional battery cells, Shaligram explains, the current flows through a spiral pathway instead of a straight line. With 3D architecture, the area over which the current flows is spread out, minimising its pathway. With this, the current not only flows in a straight line but is distributed over a large area, resulting in significant heat reduction.
The venture recently raised ₹7.5 crore in a pre-seed round led by Speciale Invest, a deep-tech focused venture capital firm, with participation from Micelio Mobility, a clean mobility fund, and CIIE.CO, the innovation continuum at Indian Institute of Management, Ahmedabad. The company hopes to develop the technology and the product by 2023-end and get into proof of manufacturing by 2024-25.
- N. Ramakrishnan
FABHEADS AUTOMATION PVT LTD
Founder: Dhinesh Kanagaraj
Year: 2015
Big idea: To automate carbon fibre fabrication and 3D-print them
After a three-year stint in the liquid propulsion systems centre at ISRO, Dhinesh Kanagaraj took the plunge to become an entrepreneur. Interested in working with new materials, the aerospace engineering graduate from IIT Madras launched Fabheads Automation to focus on making components with new materials such as carbon fibre for the defence and aerospace industries.
Carbon fibre is lightweight but extremely strong. It is increasingly replacing traditional metals in industries such as defence and aerospace, and in premium yachts, submarines, fighter jets, Formula 1 cars and some premium automobiles in Europe and the U.S., Kanagaraj says. "We wanted to automate carbon fibre fabrication and make the process better," he adds. Along with 3D-printing carbon fibre parts for various uses, Fabheads also designed and developed 3D printers.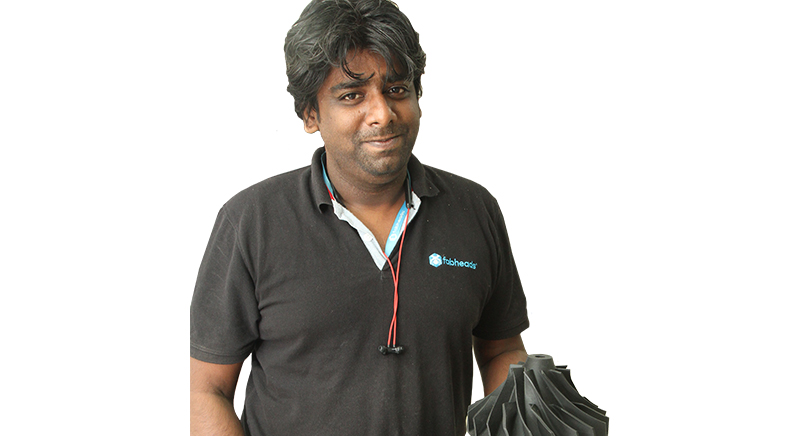 Dhinesh Kanagaraj with 3D-printed carbon fibre parts made by his start-up, Fabheads Automation Pvt. Ltd.
PHOTO: BY N. RAMAKRISHNAN
He points out that working on 3D-printed carbon fibre parts and proving their capability, while also developing the 3D printers simultaneously, took a while. In 2022, the company started earning revenues by producing 3D-printed carbon fibre parts.
Fabheads' clients, he adds, include over 60 drone companies. It builds the complete drone structure using 3D printing. It also has clients in the defence and aerospace sectors, and in the shipping industry, for which it makes propeller blades and other parts.
The carbon fibre is largely imported from the U.S. and Japan, he says. Even though carbon fibre costs more than, say, aluminium, the advantage is that one does not need as much carbon fibre raw material as one would of aluminium. Since carbon fibre parts are lighter, structures made of such parts weigh less than they would if built with traditional metal. They also last longer — helicopter blades made of metal, for instance, may last up to 6,000 hours at the most; those made of carbon fibre will last twice as long.
The advantage of 3D printing, Kanagaraj says, is that the parts can be processed faster. If a typical component takes up to a week to make, 3D printing takes two days.
Fabheads can make components of up to two metres in length, and hopes to make up to five metres by the end of 2023. The company also offers clients a technology stack, for which it has got a patent.
The company's 3D printers are sold only to academic institutions at a discount and R&D laboratories. Fabheads prefers to be in the service business — making components for user industries.
Kanagaraj says that the company has raised about $2 million till date and is looking to raise $5 million in a Series A round, for which it is in talks with investors.
- N. Ramakrishnan
ISMO BIO-PHOTONICS PRIVATE LIMITED
Founders: Ikram Khan and Shantanu Pradhan
Year: 2020
Big idea: A chip on which organs can be grown and imaged for basic and clinical applications
For pharmaceutical companies, drug approval is like a game of fortune. Currently, drugs are first tested on animal models such as mice and monkeys before clinical trials are conducted on humans. Data shows that 95% of drugs fail at the human clinical trial stage, leading to a huge loss of resources.
This loss can be averted if the drugs are tested on human tissues grown in a laboratory. The problem is that there is no standard procedure to simultaneously grow human tissues or organoids and test the effect of drugs on them.
Researcher Ikram Khan was initially oblivious to the problem. He was developing fibre lasers for imaging in a laboratory as part of his Master's programme at IIT Madras when he first learned from a visiting MIT researcher about a similar problem in growing, imaging and analysing brain organoids or "mini brains".
"Once you take out the mini brains from an incubator to image their growth, there is a problem in putting them back in the incubator because of the risk of infection or tissue damage. Because of this issue, one cannot study an organoid sample in a robust manner," Khan says.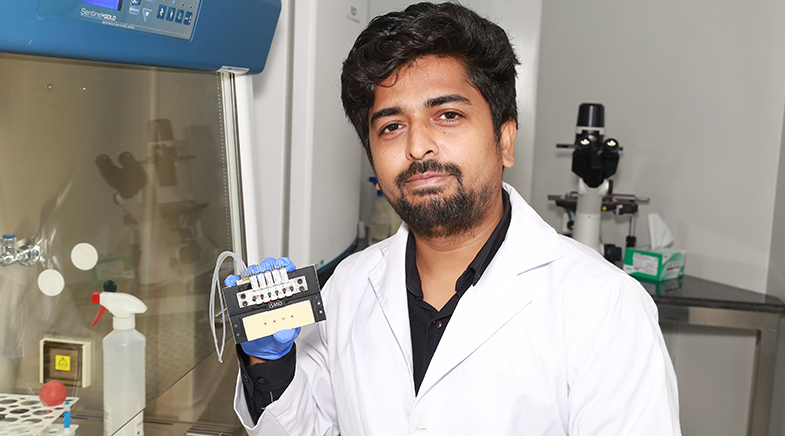 Ikram Khan has conceptualised a chip on which organoids can be grown and imaged.
PHOTO: BY KANNAN KRISHNAMURTY
The problem captured his engineering mind and he realised it could be solved if he could grow organoids in a vessel that allowed for imaging the tissues. So he went on to conceptualise the design of a chip on which organoids could be grown and imaged.
Organoids require an ambient temperature, a constant supply of nutrients and infection-free conditions for growth. To meet these requirements, Khan fabricated a chip via 3D printing so that it could be easily viewed under a microscope. He also provided the organoid growth with chambers in the chip with capillaries to make a microfluidic system that controlled the nutrient supply.
Once the prototype was ready at IIT Madras, he took it to neuroscientist Mriganka Sur's laboratory at the Massachusetts Institute of Technology, where brain organoids are cultured. With the help of lab members, Khan tested and improvised his prototype by growing brain organoids on it.
The chip has potential application in both basic and clinical sciences. As one can easily study the effect of any chemical or drug on human tissue grown on the chip, the technology can help reduce the risk of drug failure in later stages. It may also aid personalised cancer treatment — a cancer tissue from a patient can be grown on the chip, and the impact of various drugs tested on it. This way, one can give specific drugs to the patient. The chip can also be used by basic science researchers to study disease models in greater detail.
Given the huge potential of the chip, Khan decided to further develop and test the chip for culturing various human organoids, and then commercialise it. With no background in organoid culture, he approached Dr Shantanu Pradhan, Assistant Professor at IIT Madras, to join him. The outcome was ISMO Bio-photonics Limited, a start-up born in 2020.
This Chennai-based start-up has joined hands with Apollo Hospitals and the Cancer Institute to test the use of chips in growing cancer tissues and study the effect of drugs on them. The company is also looking for funding to scale up chip production.
- Aditi Jain
Have a
story idea?
Tell us.
Do you have a recent research paper or an idea for a science/technology-themed article that you'd like to tell us about?
GET IN TOUCH