Why Shaastra? Why IIT Madras? Why now?
from Shaastra :: vol 01 edition 01 :: May - Jun 2021
DURING THE recent fourth Test match between India and England, there was one brief moment that became a metaphor for something larger than cricket. It happened when Rishabh Pant and Washington Sundar were at the crease: two youngsters taking on an experienced English attack. James Anderson, arguably one of the world's best bowlers today, came charging in with the second new ball. Facing the first ball, Pant stepped out of the crease – as if he were playing a T20 match – and walloped Anderson to the fence. The perfection of that shot, and the two youngsters' body language all through their innings, summed up, in my mind, what India has become in the last decade: a self-aware and self-confident, yet humble, young country. 
That leads us to the story of the genesis of Shaastra, the magazine you hold in your hands. 
WHY SHAASTRA?
Science and technology infrastructure in India has expanded dramatically in the past 10 years, but to make sense of what is happening, and distill its implications in language that is easy for readers to comprehend, requires a sophisticated understanding. That perhaps accounts for why science and technology media products are somewhat sparse in the media landscape. A recent survey by the IIT Madras Alumni Association suggests that over 90% of the public are happy to share science and technology findings on social media, if they are presented as a digestible byte. Shaastra, which comes with an IIT Madras pedigree, is an endeavour to fill that vacuum, both in the print and digital space, primarily in the interest of enhancing an understanding of science and technology.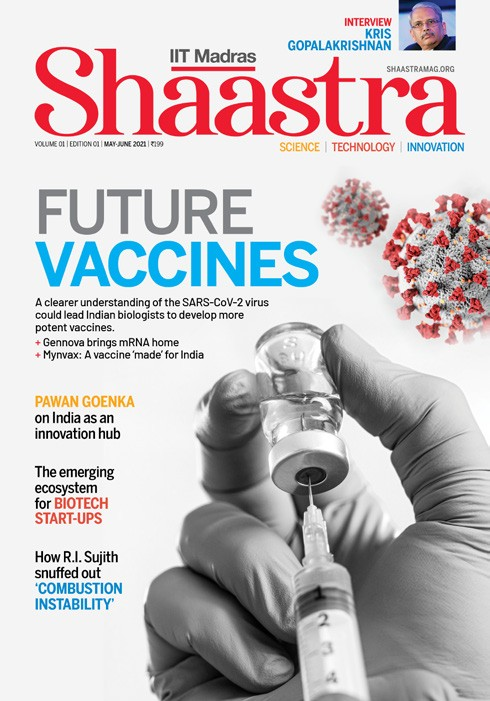 WHY IIT MADRAS?
IIT Madras has, over the past 60 years, evolved into an institution of national importance and an Institute of Eminence. It has been the #1 ranked Engineering Institution in the country for five successive years. This string of stellar achievements is in no small measure due to the DNA that IIT Madras' German founders infused into it: a culture of working on industrially relevant problems and being industry-facing. Several industry partners acknowledge IIT Madras' contributions to their technologies. The cherry on top is the IIT Madras Research Park, the country's oldest and most active, which is home to 700 industry partners and young start-ups collocated and driven by a desire to collaborate with IIT Madras faculty and students. 
Shaastra has been IIT Madras' long-running annual technical festival, celebrating the spirit of engineering and innovation through various competitions, summits, lectures, exhibitions, demonstrations, and workshops. Few institutions other than IIT Madras have the gravitas, the credibility, and the objectivity to comment on technology trends in the industry. Shaastra is envisioned to be a curated voice articulating the cutting-edge of science and technology in India in a language that both industry and academia will absorb and value. 
WHY NOW?
Because the Rishabh Pant metaphor applies to India in other domains as well. India is home to crores of young, welltrained technologists who are determined to script their own destiny. They have acquired the first two of the three attributes required for technology development, and are poised for take-off. There is, thus, a fierce urgency to the present moment. 
Shaastra is seizing this optimal moment to fulfill the demand for a science and technology magazine in the media landscape. In classic Pant fashion, we're hoping to knock this one out of the park. Stay tuned!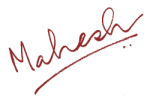 Mahesh V. Panchagnula
Have a
story idea?
Tell us.
Do you have a recent research paper or an idea for a science/technology-themed article that you'd like to tell us about?
GET IN TOUCH