Space for everyone
from Shaastra :: vol 02 issue 02 :: Mar - Apr 2023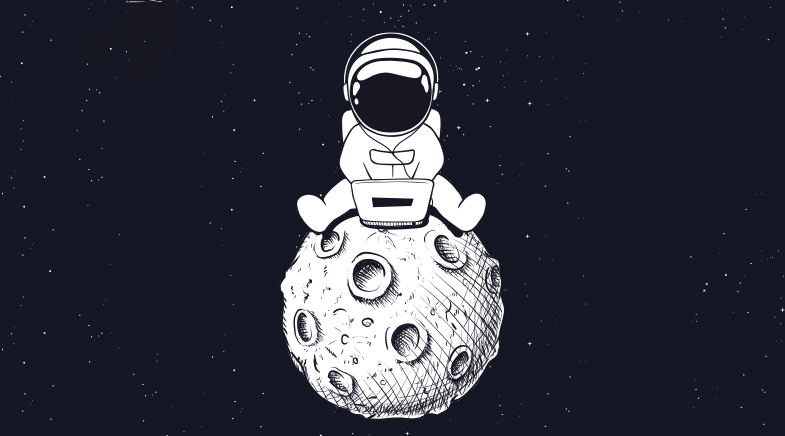 Citizens' groups are aiming for the stars — and helping space experts crunch data.
Mugdha Gandhi and N.R. Kavin Kumar share a passion. It is not their chosen disciplines — Gandhi is a statistical analyst at a consulting firm, while Kumar is a student at the Indian Institute of Science Education and Research in Bhopal. What connects the two, who live miles apart, is an abiding interest in space. Whenever they have the time, they pore over a plethora of galaxy images.
The two are members of the One Million Galaxies (OMG) online project, a vibrant community of physicians, engineers, retirees, homemakers and others who are all giving a hand to professional astronomers. They do so by studying galaxy images produced by modern telescopes such as the Japanese Subaru, an 8.2-metre, optical-infrared telescope.
Large telescopes such as the Subaru, which is stationed at the Mauna Kea Observatories in Hawaii, generate a sea of observation data. Computational resources are required to analyse it. And to expedite and facilitate such data analyses, researchers take help from citizens.
It was this thinking that led to the launch of OMG, run by the Pune Knowledge Cluster (PKC), a government initiative on promoting science. Members are volunteers, who are trained online by senior PKC members, and can access galaxy images from the OMG website.
Citizen astronomers are trained to identify nuanced and detailed visual features from specific galaxy images. They look for, among other features, spiral arms on a galaxy, or a tidal tail — streaks of gases that flow away from a galaxy. They are also encouraged to report unusual observations that are not a part of the listed features.
After these images are analysed by the citizen astronomers, the data is used to train Artificial Intelligence — the eventual goal for professional astronomers associated with PKC — so that such analyses may be done automatically in the future.
GLOBAL TREND
Globally, there are many examples of citizen astronomy. Galaxy Zoo seeks to understand how galaxies are formed and classifies them into groups based on their morphology. Zwicky Chemical Factory works with volunteers to classify transients in the sky. Planet Four seeks to understand the climate on the south pole of Mars.
EPIC DISCOVERY
Galaxy Zoo shot to fame when a citizen astronomer, Dutch music teacher Hanny van Arkel, discovered a new class of astronomical objects that was later named Hanny's Voorwerp. It's been more than a decade since the first Voorwerp was spotted, but even now, when PKC members organise a training session for OMG participants, they never forget to relate van Arkel's story.
After the images are analysed by citizen astronomers, the data is used to train Artificial Intelligence — the eventual goal for professional astronomers associated with PKC.
Kumar of OMG, too, hopes to spot a unique feature unknown to professional astronomers and get to publish the findings in a journal one day. Looking at galaxy images is a "fun activity for free time", he says, but he has drawn inspiration from the van Arkel story.
Another Indian citizen astronomy group making waves is RAD@home. In October 2022, its members published their findings (bit.ly/citizen-space) in the journal Monthly Notices of the Royal Astronomical Society: Letters (MNRAS). The study describes a unique black hole, named RAD12, in a remote galaxy, firing a singular jet towards a neighbouring galaxy. Such jets are expected to show up in pairs, moving in opposite directions. The reasons for deviation need further investigation.
RAD@home, one of the oldest citizen astronomy groups in India, was launched in April 2013 by Ananda Hota, Assistant Professor, University of Mumbai-DAE Centre for Excellence in Basic Sciences. With the help of data from India's Giant Metrewave Radio Telescope or GMRT, RAD@home trains its members to study galaxies.
In addition to online interactions and discussions, it also organises face-to-face training sessions for members across India. It started with five members — and now has over 2,500 affiliates. The group has a Facebook page, where activities are posted. Hota and other senior members guide the enthusiasts.
Their paper in MNRAS is a culmination of many years of work. Apart from Hota, the study has six authors from the RAD@home community. Two of them, Pratik Dabhade and Sravani Vaddi, are among the earliest members of the group. They went on to their do PhDs in astronomy, and are currently pursuing post-doctoral research in Spain and in the U.S., respectively. Megha Rajoria, another member, now works with RAD@home to expand its reach to other Asian countries.
RAD@home is a platform for the "merger of education and research" for young Indians interested in astronomy, Hota says. It runs on the idea of #ABCDresearch, which means Any BE/BSc undergraduate/graduate Can Do multiwavelength, extragalactic astronomy research, he adds.
See also:
Have a
story idea?
Tell us.
Do you have a recent research paper or an idea for a science/technology-themed article that you'd like to tell us about?
GET IN TOUCH