What's the buzz?
from Shaastra :: vol 01 edition 03 :: Sep - Oct 2021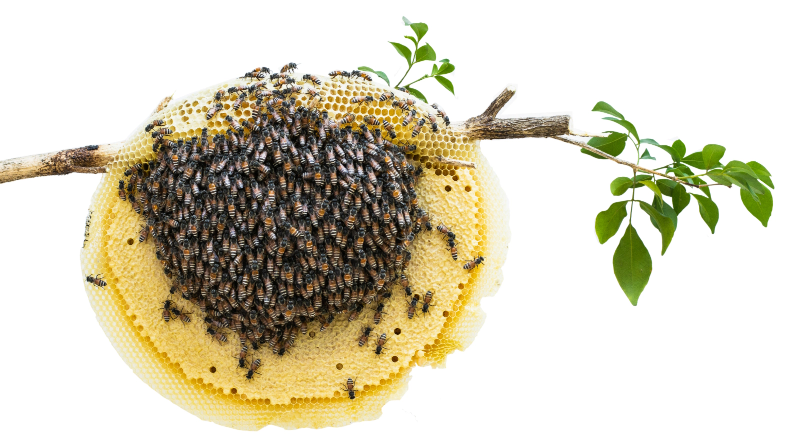 Can we learn a thing or two about acoustics from honeybee hives and implement them in real-life solutions? Perhaps, say researchers at the Indian Institute of Technology Hyderabad, who have developed sound-absorbing panels mimicking beehives.
The team - led by B. Venkatesham and S. Suryakumar, faculty in the Mechanical and Aerospace Engineering Department - found that such sheets fabricated with paper honeycomb and polymer honeycomb are capable of dissipating acoustic energy to low-frequency ranges. These, therefore, have potential application in building acoustics and environmental noise control.
Many traditional materials are found to be effective in controlling higher frequencies of sound. But natural beehives control high as well as low frequencies because of their structure. This is because of the beehive's ability to convert acoustic energy into vibration energy. Mimicking this property could offer cost-effective engineering solutions for controlling noise pollution.
According to Venkatesham, when the researchers examined beehives in the lab, they found that there was a 100% absorption of sound in the 400-700 hertz range. Their hypothesis (which is yet to be tested otherwise) is that this is because these hives are designed in a manner to provide a quieter environment for the honeybee queen when worker bees are buzzing around.
Mimicking this property of the beehive, the researchers fabricated thinner but strong acoustic panels of paper as well as of polypropylene. The design methodology involved understanding the physics of a beehive's acoustic energy dissipation and its structural design.
 
Researchers have developed sound-absorbing panels using paper honeycomb and polymer honeycomb.
The tonal behaviour of most rotating equipment such as air handling units in buildings, pumps and blowers is in the frequency range of 63 hertz to 1,000 hertz. "We feel that this may become a complementary solution for the existing acoustic materials which work at higher frequencies," Venkatesham said.
The team developed a mathematical model and calculated optimised parameters, and then fabricated the test honeycomb panels.
The polymer panels, for instance, were made by slicing stacked extruded polypropylene straws. The slicing process is done with the help of a hot wire, which also bonds the straws together. The developed technology provides a mechanism of acoustic energy dissipation with a lower thickness and higher specific strength of acoustic panels. As part of the project, Venkatesham's team also established a test facility that measures the sound absorption coefficient of large material samples.
The development of the technology was supported by the Department of Science and Technology through its Advanced Manufacturing Technologies programme. The technology, which is in the sixth stage of the nine-phase Technology Readiness Level, has been transferred to an industrial unit in Pune.
Venkatesham plans to scale up the technology demonstration, develop a batch production machine for polymer materials, fabricate with newer, alternative self-damping materials, and test compliance with other safety requirements such as flame retarding and weathering tests. He is hopeful that such materials can corner 15% of the traditional sound-absorbing acoustic material market for low-frequency applications. 
Have a
story idea?
Tell us.
Do you have a recent research paper or an idea for a science/technology-themed article that you'd like to tell us about?
GET IN TOUCH